Mobile Light Tower for Sale
Product Detail
Feedback now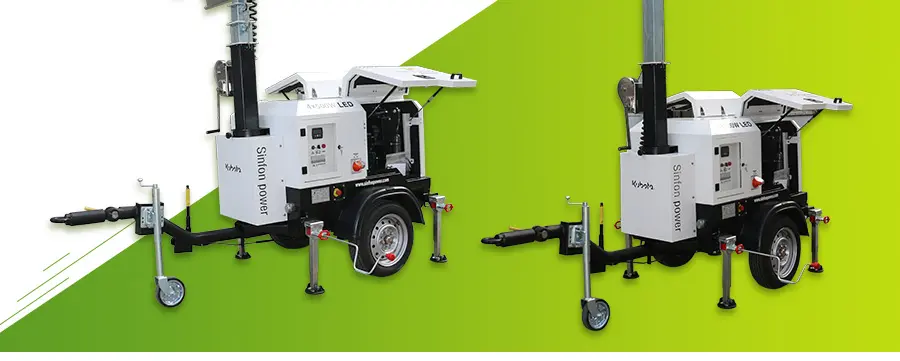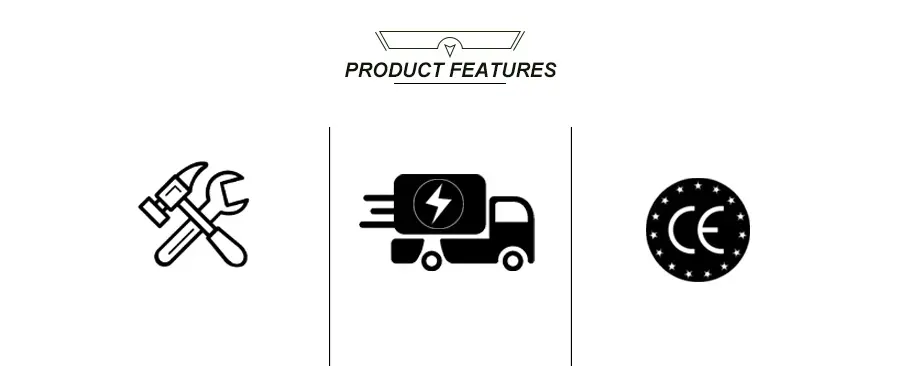 Features of Mobile Light Tower

● Hydraulic/Manual Winch lifting system

● Large volume fuel tank for long operation

● Vertical mast for less bulky & safer

● Lockable door

● 9m max-height

● Emergency stop button

● 4 adjustable stabilizers

● Sound level nearly 58dB(A)

● Wind stability optional from 65km/h to 80km/h

● Coupled with tail light for safety concern

● Single axle towing a trailer

● Optional mains inlet socket

● Each lamp with one On/Off switch

● Optional to turn on the light from mains, generating set or another lighting tower.

● Lamp angle adjustable

● Optional for 50Hz & 60Hz

● Coiled cable to support lamps

● Optional design from 4.4kVA to 25kVA

● 355°/85° Mast rotation



Main Parameters of Kubota Series
Model
K7M 4000M
K7M 2000L
K9H 4000M
K9M 2000L
Genset Output

4.4kVA

4.4kVA

4.4kVA

4.4kVA

Height Extended Fully

7m

9m

Fuel Tank

40L

Mast Extension

Manual

Hydraulic

Mast Rotation

355°

Lamps

4X1000W Metal Halide

4x500W LED

4X1000W Metal Halide

4x500W LED

Luminance Flux

400000 Lm

280000 Lm

400000 Lm

280000 Lm

Engine

Kubota, D905

Kubota, D905

Kubota, D905

Kubota, D905

Alternator

Mecc Alte, LT3N-75/4

Mecc Alte, LT3N-75/4

Mecc Alte, LT3N-75/4

Mecc Alte, LT3N-75/4

Control Module

Deep Sea, DSE3110

MCCB

Schneider

Phase

Single Phase

Power Factor

1

Dimension-Min

1900 X 1130 X 2550 mm

1900 X 1130 X 2550 mm

Dimension-Max

2900 X 2490 X 7000 mm

2900 X 2490 X 7000 mm

Weight

905KG

884KG

956KG

935KG

Max. Load in 20GP

6

6

6

6

Max. Load in 40GP

12

12

12

12
Main Parameters of YTO Series
Model
Y7M 4000M
Y7M 2000L
Y9H 4000M
Y9M 2000L
Genset Output

7.5kVA

7.5kVA

7.5kVA

7.5kVA

Height Extended Fully

7m

9m

Fuel Tank

40L

Mast Extension

Manual

Hydraulic

Mast Rotation

355°

Lamps

4X1000W Metal Halid

4x500W LED

4X1000W Metal Halid

4x500W LED

Luminance Flux

400000 Lm

280000 Lm

400000 Lm

280000 Lm

Engine

YTO, YD380

YTO, YD380

YTO, YD380

YTO, YD380

Alternator

Dingol, DP06-60

Dingol, DP06-60

Dingol, DP06-60

Dingol, DP06-60

Control Module

SMARTGEN HGM1790

MCCB

Schneider

Phase

Single Phase

Power Factor

1

Dimension-Min

1900 X 1130 X 2550 mm

1900 X 1130 X 2550 mm

Dimension-Max

2900 X 2490 X 7000 mm

2900 X 2490 X 7000 mm

Weight

915KG

892KG

964KG

943KG

Max. Load in 20GP

6

6

6

6

Max. Load in 40GP

12

12

12

12


From 1985 to the present, more than 50000 units high-quality generator units are widely used in the railway, oil field, hospital, factory, building, port and troops. It can be seen that Sinfon power generator sets provide power continuously on Qinghai-Tibet Plateau with average altitude more than 4000m, cold Northern China oil field and oceangoing cargo vessel sailing all over the world.

Founded in 1985, SINFON POWER is specialized in R&D, manufacturing and sales of diesel, gas, bioenergy, solar energy generating sets and providing comprehensive power solutions.
Our company has obtained ISO certificates and Communication Industry Certificate, etc.



Our company has obtained ISO certificates and Communication Industry Certificate, etc.
● ISO certificates:
ISO 9001: 2008 Quality Management System Certificate
ISO 14001: 2004 Environmental Management System Certificate
OHSAS 18001:2007 Occupational Health and Safety Management System Certificate
● Communication Industry Certificate-TLC certificate:
Perkins series generating sets: SP (7kW-1000kW)
Volvo Penta series generating sets: SV (56kW-500kW)
● One of the earliest enterprises in China obtained the following valuable licenses:
Network access license of communication equipment issued by the Ministry of Industry and Information
Admittance license of generating unit for oil field
Network purchasing information publishing qualification of army.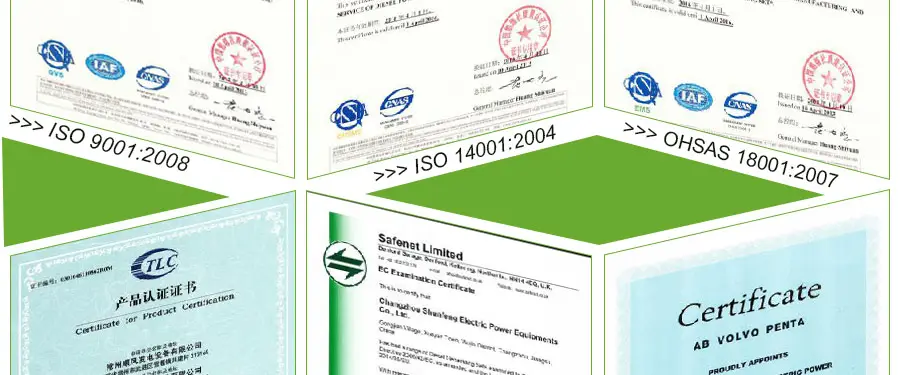 1. Reliable Performance is the major advantage of Sinfon Power products, and this reliability is based on the outstanding design in every aspect and strict Q.C System.
2. We devote ourselves to develop products to meet customer' s requirements. Our engineers develop and design new products for customers.
3. Our engineer team will solve your technical problems within 48 hours.
4. Every product will be tested before ex-factory and the test result should be 100% qualified before delivery.
5. Certification like CE, ISO & CCS will be provided.

FAQ:
1. What is the power range of your diesel generator?
Answer: We can provide power from 7kVA to 3000kVA.
2. What is your payment term?
Answer: We can accept 30% T/T in advance for deposit and balance against the delivery. And L/C at sight can also be granted.
3. What is your warranty?
Answer: The warranty of our majority products is one year or 1000 hours working hours from the shipment date except Volvo Brand.
4. What is your MOQ?
Answer: Our MOQ is at least 1 set.
5. What is the voltage and frequency of your diesel Generator?
Answer: 50/60 Hz, 380/220V, 400/230V, 415/240V, 6000V ,11000V or as customer' s requests.
6. Do you offer OEM service?
Answer: Yes.
7. What is your lead time?
Answer: Average of 40 days.