---
SINFON Volvo diesel generator set
---
Technical parameters of SINFON Volvo unit
---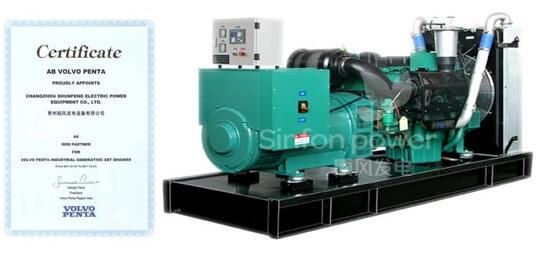 Technical parameters of SINFON Volvo unit
Unit parameters
Size, Weight
Unit model
diesel model
Main Power
KW/KVA
Backup Power
KW/KVA
Rated Voltage (V)
Stable Voltage Regulation
steady-state frequency
Adjustment rate
Open frame unit size (mm×mm)
Weight (kg)
Silent unit size (mm×mm)
Weight (kg)
SV56
TD520GE
56/70
62/77
400/230
≤±1%
≤5%
2035×720×1340
940
2850×1200×1600
1695
SV68
TD520GE
68/85
75/93.5
400/230
≤±1%
≤5%
2080×720×1340
980
2850×1200×1600
1695
SV80
TAD531GE
80/100
88/110
400/230
≤±1%
≤5%
2030×720×1390
1030
2760×1140×1830
1900
SV104
TAD532GE
104/130
114/143
400/230
≤±1%
≤5%
2080×930×1400
1050
3250×1130×1610
2000
SV120
TAD731GE
120/150
132/165
400/230
≤±1%
≤5%
2460×870×1430
1368
3400×1200×1605
2313
SV140
TAD732GE
140/175
154/193
400/230
≤±1%
≤5%
2560×1000×1530
1441
3700×1300×1785
2388
SV160
TAD733GE
160/200
176/220
400/230
≤±1%
≤5%
2600×1050×1530
1491
3700×1300×1782
2438
SV200
TAD734GE
200/250
220/275
400/230
≤±1%
≤5%
2600×1050×1540
1804
3750×1300×1875
3152
SV260
TAD941GE
260/325
286/358
400/230
≤±1%
≤5%
2910×1110×1640
2571
4200×1300×2007
3997
SV300
TAD1343GE
300/375
330/413
400/230
≤±1%
≤5%
3065×1115×1660
3135
4225×1460×2150
4400
SV320
TAD1344GE
320/400
352/440
400/230
≤±1%
≤5%
3065×1115×1660
3135
4225×1460×2150
4400
SV360
TAD1345GE
360/450
396/495
400/230
≤±1%
≤5%
3140×1115×1740
3265
4225×1460×2150
4500
SV400
TAD1641GE
400/500
440/550
400/230
≤±1%
≤5%
3300×1110×1910
3555
4900×1500×2405
5768
SV450
TAD1642GE
450/563
495/619
400/230
≤±1%
≤5%
3300×1110×1910
3555
4900×1500×2405
5908
SV500
TWD1643GE
500/625
550/688
400/230
≤±1%
≤5%
3415×1330×1940
41149
5000×1600×2455
6480
Volvo diesel main parameters (1500RPM)
Manufacturer
Number of cylinders/
Arrange by
Bore ×Stroke
(mm×mm)
Air
Compression Ratio
Total engine displacement
(Liter)
Oil Capacity
(L)
Total Coolant Capacity
(L)
100% load
Fuel consumption
(g/kwh)
Fuel System
Gas volume
(m3/min)
Smoke volume
(m3/min)
TD520GE
4 in line
108×130
17.5:1
4.76
13
22
215
Direct Injection Fuel System
4.8
15.4
TAD531GE
4 in line
108×130
18:1
4.76
13
19.7
218
Direct Injection Fuel System
6.09
18.4
TAD532GE
4 in line
108×130
18:1
4.76
13
20.2
214
Direct Injection Fuel System
8.03
23.2
TAD731GE
6 in line
108×130
18:1
7.15
20
23.8
215
Direct Injection Fuel System
10.65
30.2
TAD732GE
6 in line
108×130
18:1
7.15
34
37.1
213
Direct Injection Fuel System
12.4
35.1
TAD733GE
6 in line
108×130
18:1
7.15
34
37.1
216
Direct Injection Fuel System
12.4
37.2
TAD734GE
6 in line
108×130
17:1
7.15
29
32
204
Full electronic fuel injection system
16.3
33.4
TAD941GE
6 in line
120×138
17.4:1
9.36
35
41
202
EFI fuel system
19.6
52.2
TAD1343GE
6 in line
131×158
18.1:1
12.78
36
44
192
EFI fuel system
27
60
TAD1344GE
6 in line
131×158
18.1:1
12.78
36
44
194
EFI fuel system
28
67.5
TAD1345GE
6 in line
131×158
18.1:1
12.78
36
44
196
EFI fuel system
27.6
58.3
TAD1641GE
6 in line
144×165
16.5:1
16.12
48
60
199
EFI fuel system
38
92.3
TAD1642GE
6 in line
144×165
16.5:1
16.12
48
60
201
EFI fuel system
40.6
100.7
TWD1643GE
6 in line
144×165
16.5:1
16.12
48
128
199
EFI fuel system
46.96
111.8
Unit electrical performance
Rated power factor: 08 (lag) Voltage: 380-415V.50Hz380-480V.60Hz.
Power output: SC series is continuous power, in line with ISO8525 regulations, can provide 1 hour 10% overload service every 12 hours
Working environment: in line with GB1105, ISO3046 standards.
Eight electrical performance indicators: in line with GB2820.1-6-97 standard.
Voltage regulation mode: automatic. Start mode: electric.
Need service or support? Welcome to enable the online message function, we will give you timely feedback and provide you with suitable solutions.
If you recognize Sinfon's brand, technology, products and market prospects, we look forward to establishing a strategic partnership with you for win-win cooperation!
---